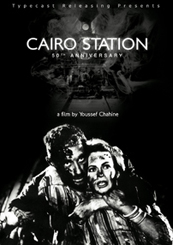 Type:


Feature Film





Director:


Youssef Chahine





Year:


1958





Time:


77 minutes





Language:


Arabic with English subtitles

Nominated: Golden Bear—Berlin Film Festival, 1958

"An underclass psycho-thriller."
— David Chute, LA Weekly

"A jewel of a film."
— Samir Hachem, Hollywood Reporter



In this beautiful classic film from legendary director Youssef Chahine, Cairo's main railroad station is used to represent all of Egyptian society. We see a community comprised of luggage carriers and soft-drink vendors living in abandoned train cars.

A crippled newspaper dealer, Kinawi (played by Chahine himself), falls in love with the beautiful but indifferent Hanuma (Hind Rostom), a lemonade seller who only has eyes for the handsome Abu Sri'. Swept away by his obsessive desire, Kinawi kidnaps the object of his passion, with terrible consequences.

Chahine received international recognition when this masterpiece of sexuality, repression, madness and violence among society's marginalized played at the Berlin Film Festival, where it was nominated for a Golden Bear in 1958.

*The Cairo Station 50th Anniversary Special Edition DVD includes Chahine's 24-minute documentary portrait of Cairo, Cairo as Seen by Chahine, made for French television in 1991.

This film is available with a Digital Site License (DSL), which allows colleges, universities, or libraries to encode, locally host, and stream the film to their community on a closed, password-protected system.

Rental Information
This film is available from AFD for public screenings and television broadcast. For information regarding rental rates and formats, please contact info@arabfilm.com for institutional/non-theatrical screenings, or info@arabfilm.com for theatrical, festival, television, or other bookings.