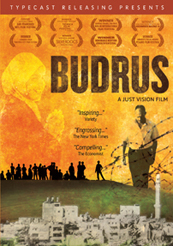 Type:


Documentary





Director:


Julia Bacha





Year:


2009





Time:


82 minutes





Language:


Arabic and Hebrew with English subtitles

Winner! Special Jury Mention, Tribeca Film Fest
Winner! Panorama Audience Award, Berlin International Film Fest
Winner! Audience Award, San Francisco International Film Fest
Winner! Witness Award, SilverDocs Film Fest


"Inspiring!"
—Variety

"Intelligent!"
— The Jewish Week

"This year's must-see documentary."
— The New York Times

"A powerful film filled with the kind of hope you rarely see around this issue."
— Michael Moore



When the residents of Budrus learn that the Israeli army plans to build the Separation Barrier through their town, cutting them off from neighboring Palestinian villages and uprooting their precious olive groves, they decide to organize. Under the leadership of Ayed Morrar, Palestinian men of all political factions come together to wage an unarmed struggle to preserve their lands. Victory seems unlikely until Ayed's 15-year-old daughter steps in to organize a female contingent that brings the women of Budrus to the front lines in a tense stand-off with the military.

As word of the nonviolent protest spreads, Israeli citizens, international activists and Palestinians from other villages join the people of Budrus to demand that the Barrier be moved. Struggling side by side, father and daughter unleash an inspiring, yet little-known movement that is still gaining ground today. Featuring interviews with unarmed demonstrators, Israeli soldiers and the citizens of Budrus, this harrowing, action-filled, and ultimately inspiring documentary has given hope to audiences around the world with its story of the ground-breaking nonviolent movement spreading across the Occupied Palestinian Territories.

Watch the Trailer:


DVD Special Features:


Trailer

Q&A With Director

Checkpoints Award

"What's Your Calling"

Rental Information
This film is available from AFD for public screenings and television broadcast. For information regarding rental rates and formats, please contact

[email protected]

for institutional/non-theatrical screenings, or

[email protected]

for theatrical, festival, television, or other bookings.