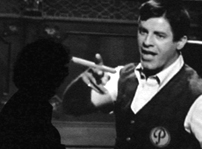 Type:


Documentary





Director:


Mehrnaz Saeedvafa





Year:


2012





Time:


38 minutes





Produced by:


Mehrnaz Saeedvafa





Written by:


Mehrnaz Saeedvafa





Language:


English and Persian with English Subtitles

"A provocative and hilarious cross-cultural investigation." —Jonathan Rosenbaum

"Jerry & Me is a love letter to cinema." —Chicago Journal



In her intimate documentary "Jerry and Me," filmmaker Mehrnaz Saeedvafa examines the significant role that Hollywood movies played in her life, both as a young film lover growing up in pre-revolutionary Iran, and as an adult working as a filmmaker and educator in both Iran and the USA.

Of particular focus in "Jerry and Me" is the intimate relationship young Mehrnaz develops with the image of Jerry Lewis, the iconic American film auteur who delighted audiences around the world with hilarious portrayals of outcasts and misfits in popular Hollywood comedies of the 1950s and '60s.

As illustrated through a variety of Lewis' film clips, the shifts in the comedian's on-screen persona reflected the twists and turns of Saeedvafa's own life, providing her much needed comfort and companionship during a time that was tumultuous and chaotic. Mehrnaz's illusion of Lewis as an empathetic fellow outsider is ultimately shattered, however, by the stark reality of a real-life encounter with the star.

Watch the trailer:


This film is available with a Digital Site License (DSL), which allows colleges, universities, or libraries to encode, locally host, and stream the film to their community on a closed, password-protected system.

Rental Information
This film is available from AFD for public screenings and television broadcast. For information regarding rental rates and formats, please contact [email protected] for institutional/non-theatrical screenings, or [email protected] for theatrical, festival, television, or other bookings.